Backloading Removalist Services
We are able to transport any move large or small to any major city such as Adelaide, Brisbane, Canberra, Darwin, Melbourne, Perth or Sydney.
We also transport goods to other areas such as Mackay, Newcastle, Wollongong, Albury, Alice Springs, Port Hedland, Bunbury and many more.
We focus our efforts on saving our customers money with our heavily discounted rates.
If you are looking to save yourself on the cost to remove your goods then all you need to do is secure yourself a great quote.
Looking For A Backloading Specialist
No furniture removal is ever too large or too small. We can cater for furniture removals of all sizes:
E bay or Gumtree purchases
interstate student moves
Work Transfers anywhere across the country
Small apartments and units
Large family home.
For businesses we can transfer stock or shop fittings or arrange your office furniture to be moved interstate
Be A Backloading Professional
This may seem obvious to a seasoned removalist, but the most important factor to a stress free move, is to be organised.
Start early, pack into boxes as much as you can and as soon as you can, something that we always do is to set out a minimum amount of crockery etc that we can make do with, and then pack the rest.
It is easier to live without the fine china for a few weeks, than it is to be still packing as the removalist is carrying your furniture out of the door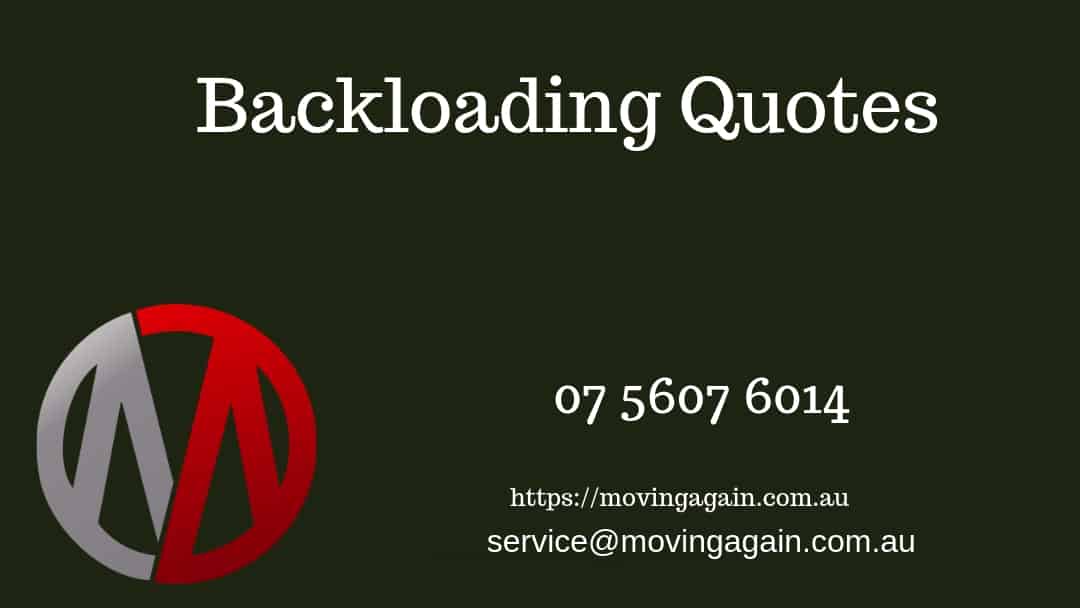 Backload Removals and Transport



Moving Furniture from A to B has never been easier
Grab a free quote today BACKLOAD QUOTE
Looking to transport a car on a backload then please use this link
Availability For Backloads

This is an easy one, we can move you pretty much any day Monday to Saturday, Sunday is available sometimes, but normally only in the very busy periods ( Christmas and New Year)
Due to the distances involved in Backloading Brisbane to Melbourne it is not always possible to ensure the same guys that collect your furniture are the same ones that deliver it, however in general the driver is the same person at both ends, his assistant / offsider may change
Again, if your move is container move, then staff will be different at either end.
Last and not least... How to get a quote to move from Brisbane to Melbourne.
"When looking for a company that does backloads, make sure you check that they have the ability to assist you when you need to move, not just when it suits them."
Moving Again

Who Can Offer A Removal Service Nationwide?
What is the cheapest way to move interstate?
Often this is done by simply contacting us about our backloading service as this way you only pay for space that is required by your belongings, furniture, and boxes in one of the trucks or containers at our disposal.
Cheap Backloading Interstate Rates are not for just capital city to capital city runs, but they are the most popular by far. Trucks load in Brisbane and Gold Coast on a daily basis and head to Darwin, via Mount Isa and central Queensland, these trucks are always looking for a return load very often so it's easy to get a backload quote for one of these runs.
Our backloading Removalists can save you money and are easily the cheap interstate removals source that you may be looking for. Why pay more when a budget-friendly service is available 6 to 7 days a week, 52 weeks a year?
Moving Again offers this service and all we require is that you complete an online inquiry, and we will have the best-priced removals quote emailed to you within a few hours.
There is not really an average cost to move interstate Australia wide, but saying that we like to keep these costs realistic, so we are happy to offer a price comparison service, if you receive a comparable quote from another backload service then shoot us an email and let us see how we compare, and hopefully beat your quoted price